A Dundee charity is inviting construction companies to show interest who wish to be considered to lead a "pioneering and innovative" development project.
Hot Chocolate Trust is a youth working charity, based in the Steeple Church in the heart of the city. Each year, he works with 350 to 400 young people who hang out in central Dundee, supporting them in their transition to adulthood. These young people are extremely intelligent and creative, but many have had difficult life experiences including trauma and adversity at home, exclusion from school, poor mental health, homelessness and unemployment. .
Young people voluntarily engage with Hot Chocolate, normally presented to the association through word of mouth recommendations from their peers. The skilled team of staff and young volunteer workers are focused on building trusting relationships with young people, harnessing their unique skills / interests / situations, and responding with a wide range of positive creative opportunities, as well as " a variety of support according to the needs and challenges experienced by young people.
---
---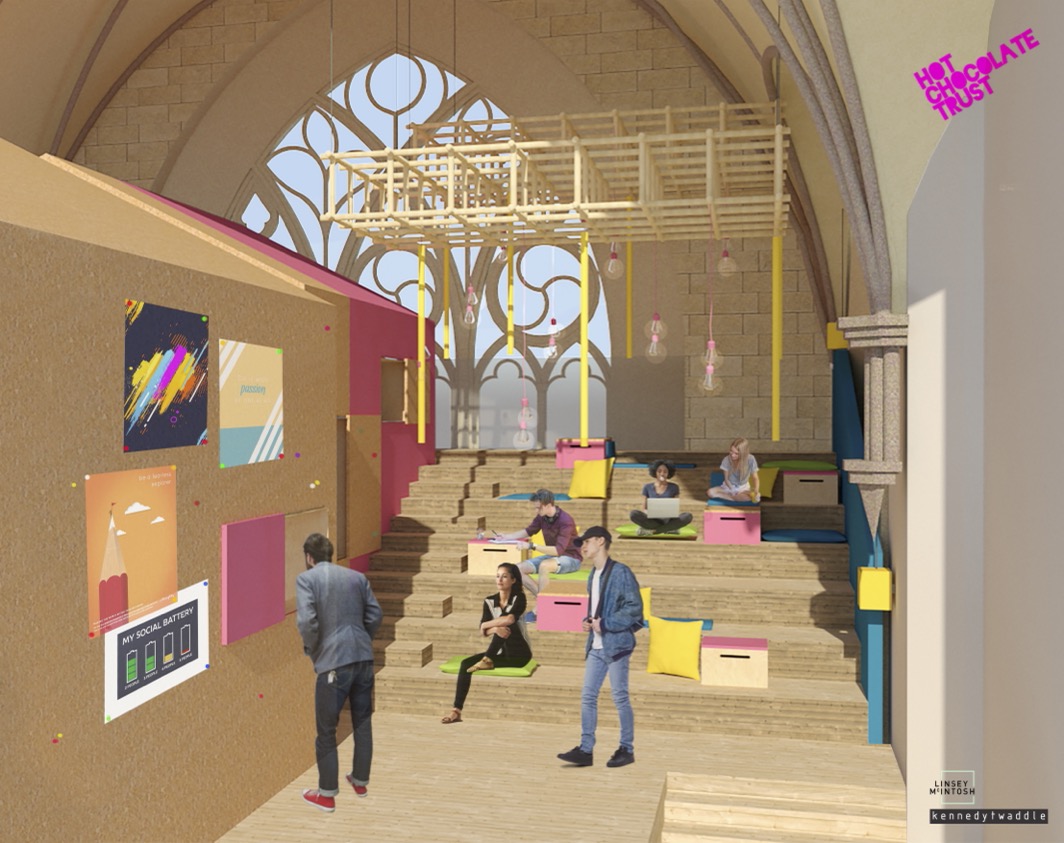 This strong relational and collaborative approach has proven itself over the past 20 years since the launch of Hot Chocolate in 2001. As a result, young people have a deep sense of belonging and responsibility towards their Hot Chocolate community, as evidenced by his Home Fae capital project.
Young people describe Hot Chocolate as their "safe space" and "Home Fae Home" – hence the name of this project. By providing a safe space where young people feel a sense of stability and belonging, they access a wide range of positive opportunities to develop new skills, experiences and ways of seeing themselves and their future.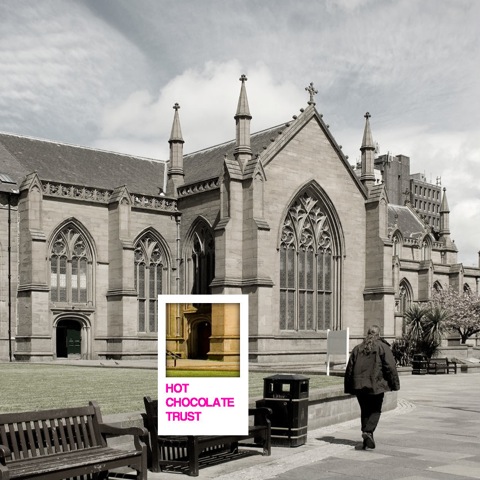 ---
---
After twenty years of working with this evolving community of young people, Hot Chocolate Trust has grown beyond its existing space. Located in the sprawling Steeple Church building, there is no shortage of space, but the building is not configured the way young people need it, in order to access the most comprehensive support and the breadth of opportunities. positive creatives that might be available to them.
Over the past two years 65 young people plus the Hot Chocolate team have worked with a team of architects and designers from Gary Kennedy to Kennedy twaddle and design consultant Linsey McIntosh, who specializes in collaborative approaches, to create co-designed plans that better reflect the ambitions and needs of young people for their space.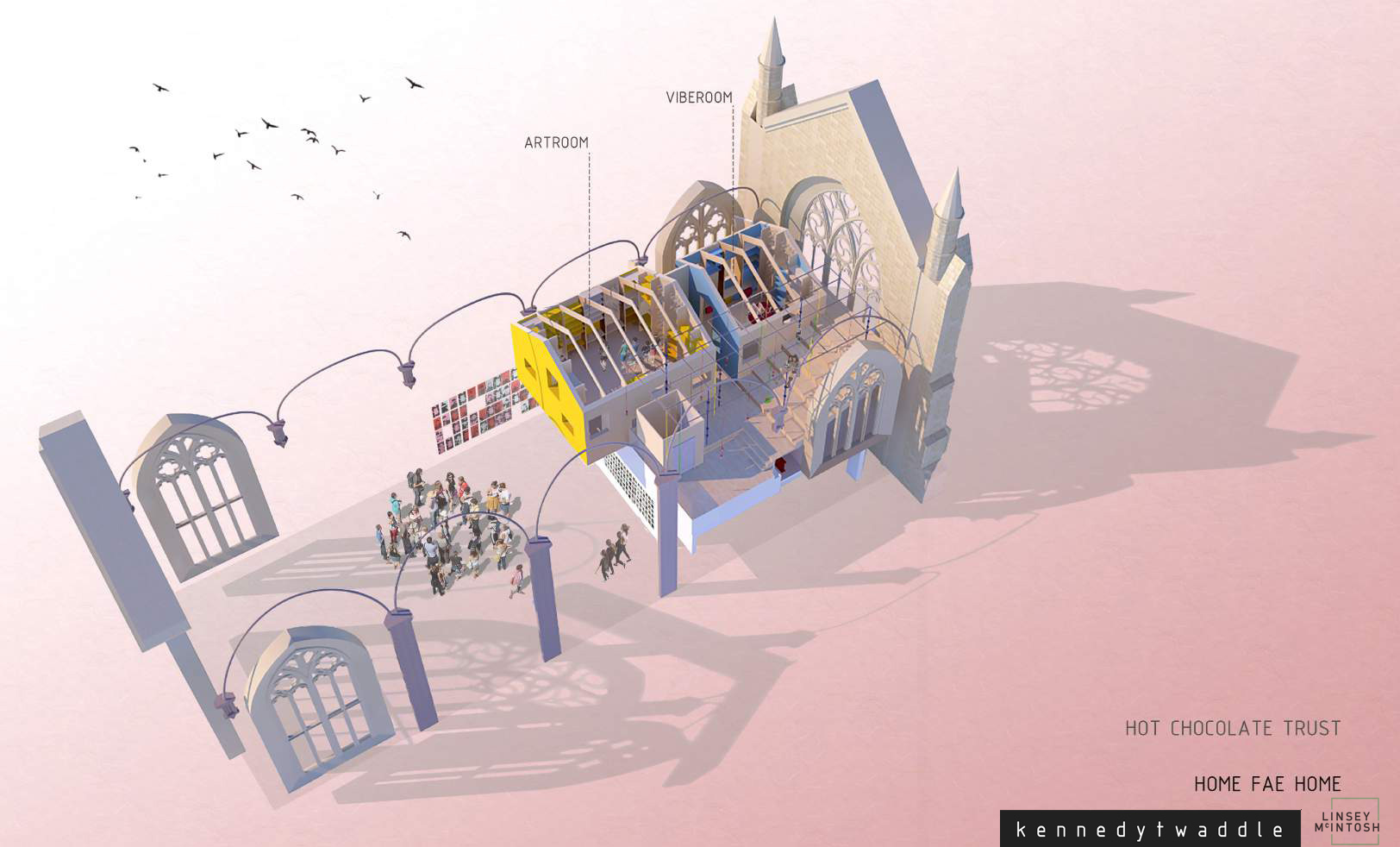 These plans are underpinned by a "trauma-informed" approach: a concept that purposefully and thoughtfully aims to help people deal with and recover from the impact of trauma and adversity. A consultant clinical psychologist partner was also heavily involved in the development of the design of this project and the resulting plans. The development of 'trauma informed' spaces is a new area in both psychology and architecture / design, and as such, Home Fae Home is an exciting and pioneering investment project with significant potential impacts on research and practice beyond the construction itself.
---
---
Hot Chocolate Trust plans to convert the underutilized balconies into a new youth workroom: an art room, sensory / activity room, and performance area with multi-level seating; install an elevator to ensure access for all; and create a secure storage area.
This project is as exciting in terms of design and construction as it is important for the lives and outcomes of young people.
Steeple Church is an A-listed building, with a rich history and heritage, and as such is one of Dundee's most prized pieces of architecture. Undertaking construction work on this building would be an invaluable addition to any construction portfolio.
---
---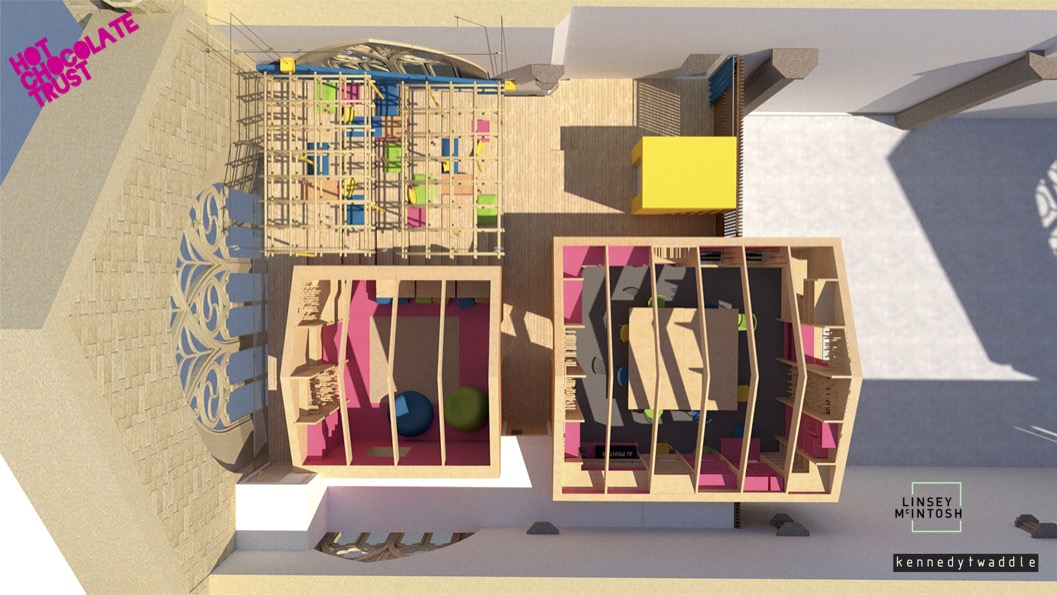 And while construction may not have started yet, Home Fae Home has already won its top prize. In April 2021, Home Fae Home received a commendation for Engagement Project of the Year, through the University of Dundee's Stephen Fry Public Engagement Awards. Given the uniqueness of the design and the importance of the social impact of the project, it is expected that further awards will follow.
The closing date for expressions of interest is December 17 at noon.
Further information can be found here